Applications in Beauty
Vacuodermie is a process of applying a vacuum to the skin through precise maneuvers utilizing different Vacuodermie plastic cup accessories to match the surface of the treated area. It stimulates the natural function of the body, improving the micro-circulation, helps reduce cellulite, tone the skin and lessen the appearance of fine lines and wrinkles.
Vacuomobilization non-invasive technique provides a safe alternative to liposuction, increasing the resiliency of the connective tissue, for a firmer smoother skin. Stationary or sliding techniques are used to improve the micro-circulation and to stimulate the natural body function.
Pressotherapy is a mechanical compression system designed to improve lymphatic flow and stimulate venous circulation. It's used as a slimming and firming complement to many Vacuodermie treatments, adding another dimension to body wraps and weight management.
Pressotherapy enhances the venous return circulation improving oxygenation and elimination of toxic waste. The gentle pneumatic massage promotes extra fluid clearance and helps to control cellulite, slimming and refining of the legs and waist. A 20 minutes pressotherapy treatment is equivalent to walking 15 miles.
---
Facial Contouring – Wrinkle Reduction
Face and Neck Contouring
This non-invasive skin rejuvenation technique improves toning and firming of the skin in the chin and neck area while stimulating the overall skin metabolism.
Increased nutrition and better oxygenation boost collagen and elastin production reducing the appearance of wrinkles and fine lines for a smoother younger looking skin.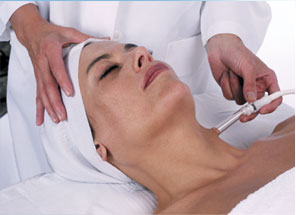 MLD – Mechanical Lymphatic Drainage
Vacuodermie mechanical lymphatic drainage is performed on healthy skin to activate lymph circulation and to eliminate the waste product of cellular metabolism. It's draining effect help to alleviate puffiness under the eyes and relieve congestion and blotchiness.
FACIAL SKIN THERAPIES
Contour of the Eyes and Mouth – Vacuodermie
1 hour 15 minutes
+ Facial toning and firming
+ Facial contouring
A technological advancement bringing vital hydration and nourishment to soften expression lines and to enhance collagen production for better looking skin
Lymphatic Drainage – Vacuodermie
1 hour 30 minutes
+ Pre and post operative care system
+ Alleviates under eyes puffiness
Stimulation of the skin metabolism to accelerate elimination of extra fluids
---
 BODY PROFILING – WEIGHT MANAGEMENT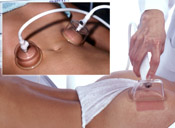 BODY THERAPIES
Stress and Fatigue Relief Vacuomobilization and Pressotherapy
1 hour 30 minutes
Lymphatic drainage for the body.
Exclusive detoxification treatment
Leg Therapy – Pressotherapy
30 minutes
– contouring and toning
Reduces swelling and helps eliminate toxins
Cellulite Treatment / Body Contouring Vacuo-Mobilization
45 minutes
Vacuodermie drive the blood toward congested tissues to help reduce the appearance of "orange peel" and smooth the skin texture
Treatment Suggestions: Series of 10 treatments